Comedy Hypnosis Shows
Dr. Dave Hill, DCH, entertains audiences with an awesome and hilarious Comedy Hypnosis Show.
Dave Hill - Hypnotist has been performing his Comedy Hypnosis Show for over 20 years for Las Vegas and Atlantic City Casinos, Corporate Events, High School Grad Nights, College Campus Entertainment, Fraternities and Sororities, Comedy Clubs, State Fairs, Festivals, as well as Private Parties. In addition:
· The Content is Appropriate and Guaranteed Not to Offend Your Guests
This show is specifically designed for your event. It is a fast-paced, high-energy show with lots of music. All the material is appropriate and the show does not resort to cheap laughs or offensive material.

· The Show is Safe Entertainment
The Show is designed to yield maximum fun while providing a safe environment for the audience and participants to enjoy themselves.

· The Performer is Insured
Dave Hill carries a $2,000,000 Professional Entertainer's Liability Insurance Policy. He has never had a claim or accident and does not expect one. This insurance is in place because you are working with a professional.
****Background Check Verified Performer**** because it is important to make sure that the entertainer you hire now for your next event has the highest morals and ethics.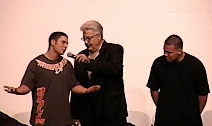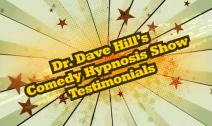 CLICK ON AN IMAGE TO SEE SHOW HIGHLIGHTS!
MORE VIDEOS ON YOUTUBE - https://www.youtube.com/channel/UCNE9wxwV7i4J7nEd_BYH58A/videos
Dave Hill's Hypnotic Stage Show is an action packed fun filled event. People are chosen from the crowd and are brought on stage to be hypnotized. They become the stars of the show. For the next hour you will have a fantastic evening of entertainment.

See your friends:

o Take part in a race to the finish to establish a record time eating an ice cream cone, without biting or chewing.
o An individual who is obviously strong will be unable to lift a chair or pick up a cigarette.
o An individual believes she has lost her rear end and frantically looks for it.
o An individual will eat an onion and believe that it is a red delicious apple.
o See "The Human Bridge." An individual under hypnosis has her body made rigid and is suspended between two chairs. While in this position she will be able to support the weight of Dave Hill on her stomach - more than 200 pounds.
Hilarious, Classical, Astounding, and Mesmerizing. Dr. Dave's hypnotic stage show is a fun filled event. People are chosen from the crowd and are brought on stage to be hypnotized. The two requirements to be hypnotized: First, you have to be willing. Second, you must have normal intelligence. This show is a lot of fun! Don't delay - Book a Show Now!

Dave Hill Answers The Most Commonly Asked Questions About Hypnosis
Q: What is hypnosis?
A: Hypnosis is an extraordinary state of mental, physical, and psychological relaxation that makes the subconscious mind more suggestible to the non-critical acceptance of ideas, concepts, and information.
Q: Who can be hypnotized?
A: Anyone who is willing, has a good imagination, has normal intelligence, and is able to concentrate enough to count from 10 down to 1.
Q: How can I increase my chances of being hypnotized?
A: By leaving everything to me and lending me the use of your imagination - your imagination enhances you ability to be hypnotized. Follow my instructions to the letter and know that when you believe hypnosis will happen it will come to pass.
Q: How will I benefit from being hypnotized in the show?
A: You will discover how powerful your mind is and learn that everything begins in thought. You will learn to pinpoint the mental, physical, and emotional habits of successful people and learn how to duplicate these habits so that you can create passionate personal relationships, mega-wealth, and total self-empowerment.
Q: What are the equipment requirements for a show?
A: The equipment needs for the show are - 1) a wireless handheld microphone, 2) a sound system to play CD's and a sound person, 3) 20 to 30 chairs without arms for the volunteers. If the show is in the Greater San Francisco Bay Area I can provide my own microphone and sound system if you do not have one for the event. However, you will need to provide the chairs.
Q: How much is a show?
A: The fee for a show is $1,000 in the Greater San Francisco Bay Area. You can reserve me now for your event with a deposit of $500 and the balance of $500 would be due the day of the event. However, the fee for a show is higher during peak seasonal events such as Post Proms, Grad Nights, Welcome Day Events, and Holiday Parties. (Special rates are available for middle schools, high schools, colleges and universities, and non-profit organizations.) If the show is outside the Greater San Francisco Bay Area, an additional fee would be required based upon the following business expenses: airfare for Performer and Performer's assistant, rental car, lodging and food; and this additional fee shall be paid in advance to Performer by Client at least 30 days prior to the engagement, in such amounts as shall be reasonably estimated by Performer.

To book a show now, contact Dave Hill at (510) 785-8152 or click here.
Click here for the Comedy Hypnosis Show Disclaimer.